Join In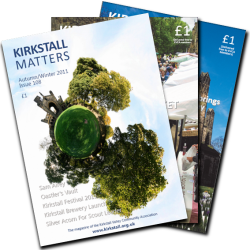 The Kirkstall Valley Community Association was founded in 1978 to promote the benefit of the inhabitants of Kirkstall and the neighbourhood. We are non-party political, non-sectarian and a registered charity. The KVCA organises events and activities such as Kirkstall Festival and acts as a pressure group and watchdog on developments affecting Kirkstall.
Annual membership is free and is open to anyone to join. Membership is per household and includes:
– hand delivery of KIRKSTALL MATTERS magazine four times per year within the Kirkstall area
– receive information and help on how to get involved in local issues and projects such as Kirkstall In Bloom and Kirkstall Festival
– find out about local news and developments first
Joining is simple, all you need to do is fill in this form and we'll take care of the rest.
If you live outside our delivery routes in Kirkstall, you can either read the magazine online or we can send the magazine by post which costs £4 in the UK or £10 internationally. When we send you your first magazine we will include an invoice for this. Unfortunately we can't accept electronic payments.
Comments or questions are welcome.
The KVCA is registered charity number 507822. Privacy Policy