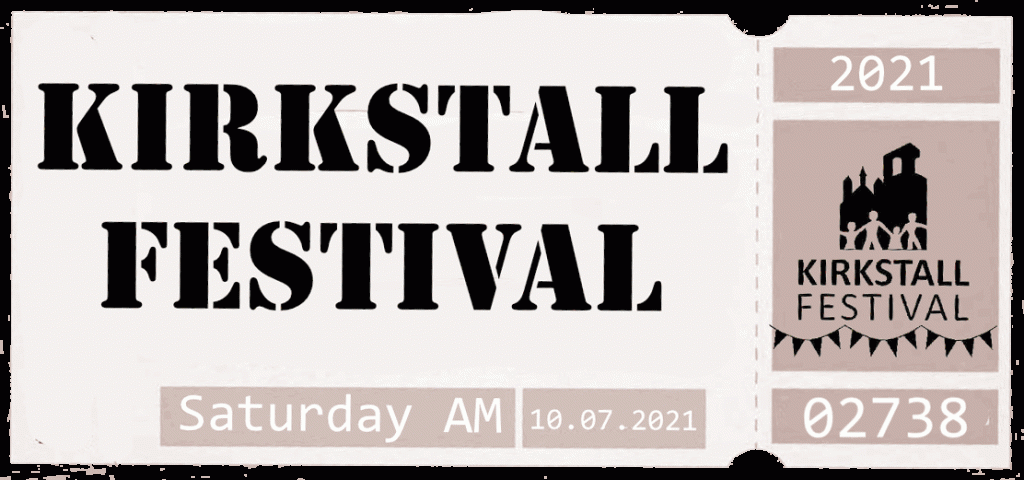 Due to our not being able to have our usual one day Kirkstall Festival we have organised a Mini Kirkstall Festival which will take place over two days – Saturday 10th July and Sunday 11th July. A smaller event by far aimed at families and closely following Covid guidelines. We'll have about 30 stalls, some food and soft drinks on sale, children's games and live music. Parking is available on the playing field next to the Abbey Museum Car Par, NO vehicles are allowed within the Abbey grounds. NO ALCOHOL WILL BE ON SALE AND NO ALCOHOL ALLOWED TO BE BROUGHT INTO THE EVENT. Our event will take place within the railings of Kirkstall Abbey and the ruins and as such we are required TO MAKE THIS AN ENTRY BY TICKET ONLY.
TICKETS ARE PRICED AT AND ADULT £2.00 (there will be a 30p booking fee added) CHILDREN UNDER THE AGE OF ELEVEN WILL BE FREE. On Both our event days there will be two sessions 10am – 2pm and 3pm – 7pm, we are limited to 500 people per session, so book early and please bring a face mask with you if still required to or if you feel safer doing so. We will be following all relevant Covid guidelines as we are required to do at the time of our event.
TO BOOK YOUR TICKETS GO TO: https://www.ticketsource.co.uk/kirkstallfestival
More information on activities, attractions and performances will be published on the Kirkstall Festival Site in due course.