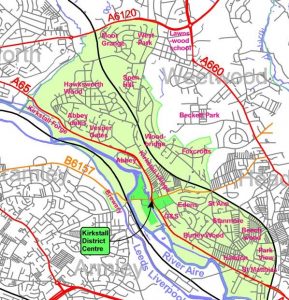 The Annual General Meeting of Kirkstall Neighbourhood Forum will take place at 7:30pm on Wednesday 30 January 2019 in Leeds Postal Sports Club, Beecroft Street LS5 3AS. A major item of business will be the new housing proposals for the adjacent retail and industrial sites, which have been largely derelict for the last twenty years. We will also report progress on public footpaths, Kirkstall Valley Park and the opportunities created by Phase 2 of the Leeds Flood Alleviation Scheme. New and existing members are welcome at this meeting, and anybody who lives, works or does business in Kirkstall can join. If you are new to Neighbourhood Planning, please sign up in advance via this website. Our members get written notice of future meetings and papers are circulated in advance. This is much less hassle than joining at the last minute on the night.
Agendas, Reports and Minutes for all our meetings are published on the downloads section of the website.
What is a Neighbourhood Forum?
Since 2011 local community groups have been given a much bigger say in Town Planning decisions. Providing we follow some basic rules, we can write our own planning policies for the Kirkstall area. We can ensure that we only get the kind of building that residents want to see.
Kirkstall Neighbourhood Forum is preparing a Neighbourhood Plan for Kirkstall ward. This gives residents better control over developers, and more influence over Council spending. Everybody who lives, works or does business in Kirkstall ward is welcome to take part. How to join