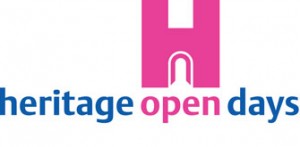 A special programme of free events and activities are set to be held in a number of Leeds Museums and Galleries' sites this month as part of the national cultural initiative Heritage Open Days. Our own Kirkstall Abbey is also taking part, with free guided tours available 14 September 2013 – 15 September 2013, 11:30am – 3:30pm!
Heritage Open Days
Held from Thursday 11 September – Sunday 14 September, Heritage Open Days sees participating cultural venues give free entry to visitors and schedule special heritage events. Visitors will have the opportunity enjoy a wide range of tours, talks, events and activities that bring local history and culture to life.
Other Venues Around Leeds
Beginning the festivities is Leeds Discovery Centre on Thursday 11 September, who will be hosting a special behind the scenes tour. Members of the tour can step inside the state-of-the-art facility, which is home to over one million fascinating objects, and discover a range of treasures such as elephant skulls, a medieval logboat, mummy bandages and meteorites.
As part of the commemorations in the city marking the beginning of the First World War 100 years ago, on Thursday 11 September Leeds Art Gallery will be giving you the chance to Discover the Heritage of the First World War in a special talk by Professor Alison Fell and organised in partnership with the University of Leeds and Leeds Civic Trust. While on Friday 12 September, curator Lucy Moore will also be on hand at Leeds City Museum to speak about different aspects of the conflict and Leeds Museums and Galleries' heritage collections.
The city of Leeds played a key part in the industrial revolution and at Leeds Industrial Museum on Friday 12 September there is an opportunity to find out more about the experience of workers during this time as they faced poverty, disease and a host of serious accidents. Curator Daniel Martin will also be providing an insightful behind the scenes tour on Saturday 13 September at Leeds Industrial Museum.
Driving enthusiasts also have the chance at Thwaite Mills on Sunday 14 September to check out a range of classic makes and models as part of a special vintage car show. Boat rides along with a number of stalls and family activities are also set to be available on the day which is not to be missed.
For more information about Leeds Museums and Galleries please see: www.leeds.gov.uk/leedsmuseumsandgalleries
Councillor Lucinda Yeadon, Leeds City Council's executive member for digital and creative technologies, culture and skills said:

"We are delighted that Leeds Museums and Galleries are taking part in Heritage Open Days, where there will be a range of fantastic free events and activities.
"There really is a lot to see and do, from finding out more about Leeds and the First World War, to enjoying the delights of a classic car show.
"We are extremely proud of our museums and galleries and this is a great chance, especially if you have never visited one of our sites before, to find out about what all the fuss is about."
Get involved by following @LeedsMuseums and using the hashtag #HODs
Heritage Open Day – Behind the Scenes Tour:
Free Entry, Free Event
Leeds Discovery Centre
Thurs 11 Sept, 11am – 12pm & 2pm – 3pm
Discover the Heritage of the First World War:
Free Entry, Free Event
Leeds Art Gallery
Thurs 11 Sept, 1.15pm – 2pm
First World War Histories of Leeds Museums & Galleries:
Free Entry, Free Event
Leeds City Museum
Fri 12 Sept, 2pm – 3pm

Poverty, Pus and Pestilence:
Free Entry, Free Event
Leeds Industrial Museum
Fri 12 Sept, 3.30pm – 4.15pm
Heritage Open Day – Behind the Scenes Tours:
Free Entry, Free Event
Leeds Industrial Museum
Sat 13 Sept, 12pm – 2pm & 1pm – 3pm
Classic Cars:
Free Entry, Free Event
Thwaite Mills
Sun 14 Sept, 11am – 4pm