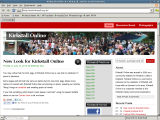 You may notice that the front page of Kirkstall Online has a new look to celebrate 10 years in existence.
Some pages will still look the same as before but the new front page allows more options to interact with Kirkstall Online like commenting on posts, tweeting our articles, "liking" things on facebook and emailing posts to friends.
If you find something which doesn't work please "comment" using the speech bubble above or use our Contact form to let me know.