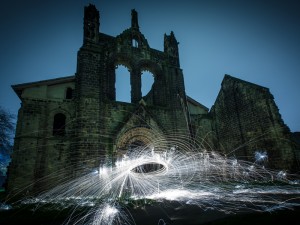 Join Olympus Magazine for a Creative Light at Night Photography Workshop on Tuesday 17 December, at Kirkstall Abbey in Leeds, open to all photography fans.
The location
We'll be meeting at the Gatehouse café opposite the Abbey at 3pm for introductions over coffee and to hear about the best techniques for creative night photography. This will also provide a great opportunity to warm up before we head outside to the beautiful Abbey for the workshop.
The experience
Our host for the day is professional photographer Adrian Wilson. Owner of McFade Photography, Adrian's experience as a commercial photographer and trainer makes him the perfect choice to lead this hands on creative workshop. He will guide you technically through getting your exposure right in manual mode to using the histogram to monitor it before experimenting with a range of different creative lighting techniques. We will start by lighting the whole end of the Abbey with a bare torch, to using a mix of gels to achieve different colour variations and experimenting with light painting and light graffiti. We'll break to treat attendees to a traditional Yorkshire fish and chips dinner and before the end of the evening Adrian will provide the ideal creative lighting opportunity by spinning flaiming wire wool in front of this dramatic building giving all attendees the chance to bag some amazing shots.
The experience will include:
–    Opportunity to creatively light the beautiful Kirkstall Abbey
–    Access to a range of colour gels to experiment with light painting and colouring the Abbey
–    Informative talk from professional photographer Adrian Wilson
–    Adrian's expert tuition and advice throughout the evening
–    A range of different Olympus lenses to try and explore different effects
–    A £50 money-off voucher for Olympus products each
–    Fish and chips dinner and refreshments throughout the evening
–    The chance for your shots from the day to feature in a national photography title
Find out more here