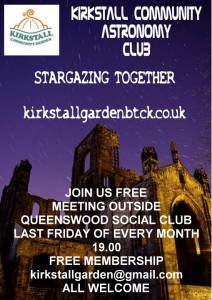 #KirkstallStargazing is a FREE Event which takes place on the Last Friday of the month, meeting outside the Queenswood Social Club on Queenswood Drive. The event was setup & run by the Volunteers of Kirkstall Community Garden with the aim to help the kirkstall community come together, learn about the solar system & share ideas.
Come Stargazing with us Free – All Welcome this Friday 19.00 at Queenswood Social Club – Queenswood Drive – working in partnership with RentaScope – 
www.rentascope.co.uk
(If the weather is overcast or raining we will reschedule the event to Monday Evening 19.00)
All welcome to bring your own equipment – Their are also some great free apps for your smart phone.
Volunteers welcome – hope to see you there & don't forget to wrap up warm.